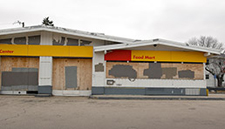 Browning Investments' plans for a massive mixed-use development in Broad Ripple will feature more apartments in an attempt to gain broader support for its proposal.
Browning was set to present its plans to the Department of Metropolitan Development's Division of Planning on Thursday but asked for a continuance to give it time to rework the design. The plans are now slated to be heard July 25.
Among the changes Browning is making: adding 15 units to the 88 apartments already included in the plans, reducing the height of the building by about 10 feet to 75 feet, and decreasing the number of parking spaces by 30. By adding more apartment units, the cost is expected to increase to $25 million. An updated rendering of the project is not yet available.
"They wanted a bigger housing component," principal Jamie Browning said of the Broad Ripple Village Association, "so we added some apartments on Carrolton Avenue."
Browning Investments is asking the city for a variance to allow for the 75-foot-tall building and a 35,000-square-foot grocery store earmarked for a Whole Foods. The developer has staked out about two acres northeast of the intersection of College Avenue and the Central Canal for the project, which also would include a parking garage. The most blighted portion of the property contains a closed Shell station (pictured above).
Please enable JavaScript to view this content.