The Shepherd Community Center, a not-for-profit whose goal is to break the cycle of poverty on the east side, is counting its blessings this summer.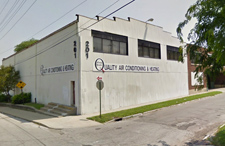 It's the recipient of a substantial donation, in the form of a building located at 201 S. Rural St., which was owned by Aaron York's Quality Air. The heating and cooling business moved to 824 S. West St. near Lucas Oil Stadium, leaving its former property to Shepherd Community.
The 66,000-square-foot building and two acres of land are assessed at $440,000, according to city records.
Aaron and Jeanie York, who started the business in 1977, owned the property. The company now is operated by Karen Conover (Aaron and Jeanie's daughter) and her husband Kris Conover.
"Their heart told them this was the right thing to do," said Matt Maudlin, director of marketing for York's Quality Air. "They had done some work with Shepherd, and it seemed like a good fit."
Shepherd Community is located at 4107 E. Washington St. and was established in 1985. It serves more than 500 area families through a health-care clinic, accredited kindergarten through fourth grade school, before-and-after-school programs, in addition to educational and vocational training opportunities.
Shepherd Community so far is letting City Life Wheels use the building to teach high school students how to repair cars. Shepherd Community's executive director, Jay Height, says his organization plans to share it with other groups in the neighborhood, because "we want it to be an asset for the community."
 
Please enable JavaScript to view this content.