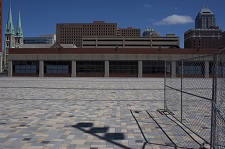 The reclamation project undertaken by Kite Realty Group to improve Pan Am Plaza is finished.
Workers ripped out the old fountain and crumbling bricks and installed a waterproof membrane and new stone pavers to stabilize the plaza until the local company can orchestrate a redevelopment.
The project spruces up the plaza and gives it a more open feel. While the fountain is gone, Kite plans to display mementos from the 1987 Pan American games—including flagpoles, cauldrons and plaques—in a portion of the plaza off Georgia Street.
The plaza was featured prominently during ESPN's coverage of the Super Bowl in Indianapolis last year. Publicly traded Kite, which bought the property in 2008 from the Indiana Sports Corp., patched up the plaza before the game so that ESPN could broadcast from the prime property at the southwest corner of Georgia and Illinois streets.
Kite ultimately hopes to build on the property a large mixed-use project that could include a high-rise hotel, restaurants, retail space and even residential.
Coastal Partners LLC owns the 12-story, 138,800-square-foot Pan Am Plaza office building, which is nearly fully leased, said Bennett Williams, a Cassidy Turley office broker who had led the building's leasing efforts before Coastal recently assumed the duties.
He said the improved plaza should help the building maintain and attract more tenants.
First-floor tenants include the licensed-apparel retailer Lids and a coffee shop.
Please enable JavaScript to view this content.