Indiana Landmarks has bought more time in its efforts to save the downtown Phillips Temple at 1226 Dr. Martin Luther King Jr. St.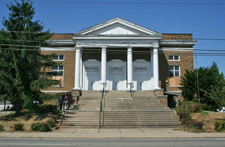 The city's Regional Center Hearing Examiner had been set to hear a request Thursday from Indianapolis Public Schools to demolish the vacant but historic structure to make way for parking for Crispus Attucks Medical Magnet High School to the south.
IPS bought the 90-year-old building with the four towering white columns at its entrance, and adjacent land, in early 2011 for $319,000.
But IPS is giving the building a reprieve now that a couple of potential buyers appear to be interested in saving it. Former IPS Superintendent Eugene White had accepted a request from Indiana Landmarks to give preservationists until the end of last year to try to save the building by finding a buyer willing to renovate it.
"For the last 18 months we have tried to find a buyer for the building and we have not been able to," said Doug Bye, IPS' director of facilities. "However, there has been a group that has expressed interest."
A well-known apartment developer that both IPS and Indiana Landmarks declined to name is considering converting the building into a residential development.
And Mark Dollase, vice president of preservation services for Indiana Landmarks, says a community-based organization is interested as well.
"The good thing is there are options for the building and it doesn't have to be an eyesore," he said.
The building needs a lot of work, though. The roof is unstable, the walls are bowing and windows have been left open, exposing the interior to the elements. It could take between $1 million and $2 million to get it functional, Dollase said.
Bye at IPS said that if the school district ultimately sells the building it likely would arrange an agreement with the owner to use some of the on-site parking.
Indiana Landmarks placed the Phillips Temple on its latest "10 Most Endangered" list released in April.
 
Please enable JavaScript to view this content.