• Brewstone Beer Co. is the latest to fail at 3720 E. 82nd St., formerly occupied by the Music Mill concert venue. The restaurant and bar concept closed late last month less than two years after opening.
Cadillac Ranch Group, which also has a restaurant downtown, began renovating the building in mid-2011 but never opened. The Music Mill venue closed and reopened twice in 2009 under different owners. It closed for good in December 2010. The building once housed a Discovery Zone children's amusement center.
• Starbucks has agreed to take 2,000 square feet at the west end of the new Nora Shops West retail center, a $2 million redevelopment of the 8,000-square-foot building that formerly housed Cafe Nora.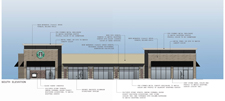 A restaurant by Ryan Nelson, chef/owner of Late Harvest Kitchen at Keystone at the Crossing, will anchor the eastern portion. The concept will be a chef-driven barbecue restaurant with a menu featuring various geographic regions of barbecue and focusing on sustainably raised beef and pork, according to developer PK Partners.
Starbucks and the restaurant should be open in 2014. PK Partners says there may be room for one more tenant.
• Studio Movie Grill is set to open by the end of the month at College Park Plaza near West 86th Street and Michigan Road. The Dallas-based cinema grill signed a 15-year lease with building owner Sandor Development Co. in May to occupy the theater building that once housed the AMC Loews College Park 14 movie theater, which closed in July 2009. It had been occupied the past two years by Movie Buff, an independent theater operated by a Chicago businessman.
Studio Movie Grill spent $4.6 million on renovations. When finished, the theater will sport 13 screens, 1,800 seats, a full bar and a menu featuring appetizers, salads, entrees and pizzas.
• Torrid has filed plans to open two mall stores in Indianapolis, one at Circle Centre and another at Castleton Square, and will occupy about 3,000 square feet at each location.
Torrid, owned by California-based Hot Topic, offers plus-size clothing and accessories for women and teenage girls sizes 12-26. It operates more than 170 stores in 36 states.
• Noble Roman's Inc. has filed plans to open a Take-n-Bake store at 8183 E. U.S. 36 in Avon. Franchisees of the Indianapolis-based pizza chain already operate eight stand-alone, take-and-bake locations, including five in the Indianapolis area.
In 2010, the company started brokering deals to sell uncooked refrigerated pizzas in grocery stores and expanded the concept to mirror that of the industry-leading Papa Murphy's chain.
• Little Caesars Pizza has opened at 6241 E. Washington St., Suite B, in Irvington Plaza. It's the 11th restaurant for local franchisees Brian and Robin Jessogne.
• Several stores and restaurants are set to open this fall at the Hamilton Town Center lifestyle mall near Interstate 69 in Noblesville. They are children's clothing store Crazy 8, kids' hair salon Cookie Cutters, hair-removal specialist Neel Thredz Spa, Far East gift shop Panda(ology), Tuscanos Brazilian Grill, vinegar-and-oil shop Vom Fass, and Yats Cajun Creole, the hometown restaurant with eight Indiana locations.
   
• Subway is expected to open by November and Petro's Chili and Chips by the end of the year at the Indianapolis International Airport's new service plaza along the entrance road into the passenger terminal. The convenience store and 24-pump gas station are scheduled to open later this month.
 
Please enable JavaScript to view this content.