Irvington community groups are a step closer to saving the shell of a building that sits at the west end of the east-side neighborhood's business district, thanks to a $50,000 grant they've received.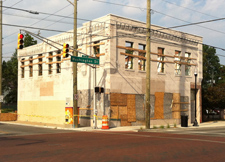 The Irvington Development Organization and Irvington Historical Society said Monday that they received the gift, which requires a dollar-for-dollar match, from the Indiana Department of Natural Resources Division of Historic Preservation & Archeology.
Built as a post office in 1903, the building at 5502 E. Washington St. anchored Irvington's former commercial hub. It has been vacant since about 1997. Facing demolition by the previous owner, the landmark was bought late last year by the two groups through a $110,000 loan from Citizens Energy Group's community development program.
The grant will help with the construction of a new storefront, as well as with the purchase of new windows and doors. Another $100,000 has been allocated to stabilize the building and to install a new roof.
The goal is to make enough repairs to the building to attract a buyer for commercial use.
A fundraiser for the century-old structure is set for Oct. 12 at the Bona Thompson Memorial Center, 5350 E. University Ave.
Please enable JavaScript to view this content.