A city zoning board on Tuesday approved a developer's request for a drugstore drive-through as part of a mixed-use project to be built on the Indianapolis Star's current headquarters property.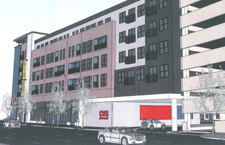 The drugstore, presumably a CVS from the looks of the architect's rendering, is expected to anchor TWG Development LLC's Pulliam Place project. The drive-through would be accessed from North Delaware Street.
If CVS follows through, the pharmacy's store at 105 E. Ohio St., about a block from the Star building, likely would close. CVS also has a downtown store at 175 N. Illinois St. Neither location has a drive-through.
The Star last week confirmed that it has finalized a lease with Simon Property Group Inc. to take 100,000 square feet of the space formerly occupied by Nordstrom at Circle Centre mall. The newspaper plans to move sometime next summer.
TWG's plans for the Star property call for up to 500 apartments in three buildings. Two of those buildings already exist and the other is to be constructed near the parking garage at the corner of Delaware and New York streets. The building will include 135 apartment units and about 20,000 square feet of retail space, with the CVS occupying at least half. Construction should start by Nov. 1.
TWG in May finalized the purchase of the 190,000-square-foot Star property at 307 N. Pennsylvania St. and its 500-space parking garage with the Star's parent company, Virginia-based Gannett Co.
The city zoning board approved the variance needed for the drive-through by a 3-0 vote.
The architect on the project is Browning Day Mullins Dierdorf Architects.
 
Please enable JavaScript to view this content.