Tini won't be quite so tiny anymore.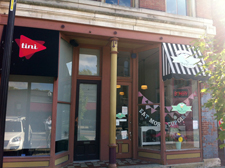 The martini and vodka bar at 717 Massachusetts Ave. is expanding into space next door occupied by The Flying Cupcake, which is relocating to 423 Mass Ave., in the block between The Rathskeller and Old Point Tavern, by the end of the month.
The moves benefit both businesses by enabling them to double in size—to roughly 1,200 square feet.
"It will allow me to have more private parties," Tini owner Brad Kime said. "We've been asked more frequently to do that, and I've not been able to accommodate those requests."
Kime has finalized a lease and plans to knock out a portion of the wall separating the spaces so patrons can move freely between the two. Capacity should double from 40 to 80 once work is completed, likely by the end of the year.
With the growth, Tini also might expand its small-plate selection and ultimately offer a bit of outdoor seating, Kime said.
Seating at the new Flying Cupcake location will be roomier as well. Owner Kate Bova Drury bought the building formerly occupied by Luther Consulting, which moved to Carmel.
"I wanted to be in the 300-400 block from Day One; there just wasn't anything available," said Bova Drury, who opened her Mass Ave location in early 2009.
Though she said the store has performed well at its current location, Mass Ave enthusiasts traipsing the cultural district from the downtown core now won't have to walk so far for a sugar fix.
Bova Drury opened her first cupcake store in 2007 at 5617 N. Illinois St. Other locations are at 831 S. Rangeline Road in Carmel and 4026 E. 82nd St. in the River's Edge Shops.
The Mass Ave location will be the only one she owns. The cupcake connoisseur hopes to have a store open in Greenwood within the next six months.
 
Please enable JavaScript to view this content.