Large apartment developments featuring a mix of retail tend to get the most attention among the plethora of residential projects either under construction or in the works. But there are plenty that fly under the radar, too.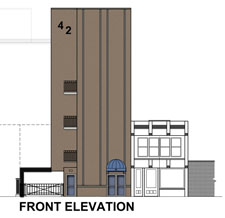 Among them: a small project downtown at 42 Virginia Ave., across from the 500 Festival Inc. building, that will include five units and 700 square feet of retail space.
The family partnership that has owned the building since the 1980s is converting it from office to residential use. A bail bonds service last occupied the ground level. But the owners decided to go a different direction with the property, since the building could never command lucrative rents as a Class B or C office building, said Dave Lucas, one of the owners.
So they've chosen to invest an undisclosed amount of money in the 9,500-square-foot building in hopes of targeting the "higher-end residential market," he said. Constructed in the 1960s, the building is clad in stucco and limestone.  
Plans call for retail on the ground level, two one-bedroom units (650 square feet) on the second floor, two two-bedroom units (850 square feet) on the third floor and a three-bedroom unit (1,600 square feet) on the top level. Rents have not been determined, Lucas said.
A staircase at the center of the building will be removed and relocated to the outside of the building, and will be enclosed once construction is finished, to provide more space within the units, Lucas said.
A one-story structure next to the apartment building has been torn down to give tenants drivable access to the rear of the building. That's where a pair of two-car garages will be located inside the ground level.
The renovation should be finished in about six months, Lucas said.
 
Please enable JavaScript to view this content.