A restaurant and event center located in the historic Buggs Temple at the head of the Central Canal have closed.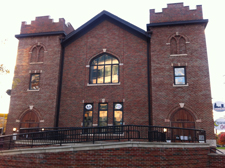 Customers of Creation Cafe and Euphoria Events were greeted Tuesday by a sign on the door that reads: "Despite our best efforts, we have been unable to reach an agreement to remain in tenancy at this location and we are forced to cease operations as of today, Nov. 5."
Co-owners Lynn Shepherd and Amy Hornsby also posted a note on Creation Cafe's website, indicating that they are searching for a new location to reopen the restaurant.
A representative of the building's owner said the five-year lease expired Oct. 20, and the two sides were too far apart in negotiating a new agreement. The group said it did not seek a rent increase. It hopes to sell the building or lease it to another user.
Creation Cafe, which occupied the ground level of the two-story temple, opened in 2008. Euphoria Events booked events at the temple, including those held in Creation Cafe and in the second-floor dining room and patio area.
Buggs Temple, built in 1918 at 337 W. 11th St.,, underwent a $3.5 million renovation that dragged from late 2003 to 2007. When the building reopened in 2007, the downstairs eatery was known as the Grille at Buggs Temple and the upstairs restaurant was called Tavern at the Temple. Creation Cafe and Euphoria replaced those tenants in 2009.
The site suffers from a lack of parking, retail brokers say.
 
Please enable JavaScript to view this content.