Buckingham Cos.' CityWay development received the highest honor at the annual Monumental Awards dinner Thursday evening.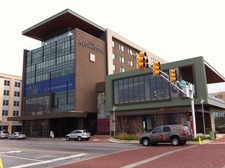 Presented by the Indy Chamber, the awards honor the most significant achievements in regional economic development, entrepreneurship, architecture, design, engineering, construction and public art.
CityWay, built on 15 downtown acres at South and Delaware streets, includes apartments, a hotel and about 25,000 square feet of retail.
The CityWay project also won in the Architecture/Interior Design/Landscape Architecture, Construction and Public Art categories.
Other winners include:
• GEICO, for Economic Development Project of the Year: The consumer insurance giant earlier this year leased 109,000 square feet of space in a 320,000-square-foot building that is part of the Carmel campus for Technicolor USA Inc. and plans to create 1,200 jobs.
• TrendyMinds, for Innovative Reuse: The advertising and public relations firm invested $750,000 to rehab a former carpenters' union hall at 531 E. Market St.
• Insight Development Corp., for Neighborhood Revitalization: The development arm of the Indianapolis Housing Agency invested $34 million to built 16 Park Apartments along 16th Street between Central and College avenues.
 
Please enable JavaScript to view this content.