The Irvington Development Organization's plan to restore the former post office building at the corner of Washington Street and Ritter Avenue disappeared into a pile of rubble Sunday.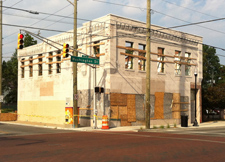 Strong storms that blew through central Indiana toppled much of the historic structure, which had withstood the tests of time for 110 years.
"It was a horrible night, just to watch and wait for the machinery to show up [to take the rest of the building down]," IDO Executive Director Margaret Banning said.
High winds blew out the east and west walls of the two-story, 2,400-square-foot building, leaving little to salvage.  
Built in 1903, the structure had not been used as a post office for years and had been slated for demolition in 2012. It had been vacant since 1997.
But IDO and the Irvington Historical Society bought the building and were in the process of stabilizing it to attract a commercial buyer.
The groups raised $12,000 and received another $50,000 grant for the work.
Steel supports were scheduled to be delivered Monday, a day after the storms, and façade work was set to begin in the spring. IDO also had planned to install a new roof on the building.
Now, Banning is left to wonder whether to sell the lot or rebuild. The building was insured, she said.
"We knew it was a risk," she said of the decision to buy the property. "But who knew we'd have these horrible winds?"
 
Please enable JavaScript to view this content.