The historic Kemper House on North Delaware Street is no longer vacant, occupied by a couple who would seem to be ideal residents.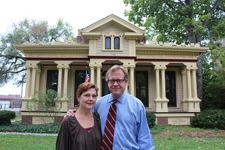 Marsh Davis, president of Indiana Landmarks, and his wife, Grace, moved into the home in September and are getting acclimated to downtown living after arriving from the Meridian-Kessler neighborhood.
The Kemper House, or affectionately known as "the Wedding Cake House" because of its unusual Victorian architecture, was built in 1873. After a series of owners, Eli Lilly, the grandson of the founder of the pharmaceutical company, bought and restored the residence in 1962, and donated it to the Episcopal diocese.
"His hope was that one of the clergy would live in the house," Davis said. "That never happened."
So it became a quasi house-museum, a concept popularized in the 1950s and 60s, to showcase pieces from the Victorian era.
When Lilly died in 1977, the church handed the home to Indiana Landmarks, whose Central Region used it as an office until 2007, when it consolidated offices with the state headquarters. Indiana Landmarks now is located at 1201 Central Ave. in Indianapolis.
Indiana Landmarks attempted to sell the home, listing it for $350,000, with no luck.
"My hunch is that it's because it's not really in a neighborhood," Davis said. "It's surrounded by asphalt and commercial buildings."
The home is just south of Interstate 65, at 1028 N. Delaware St.
The house was empty for about five years before the Davis family moved in. Davis described the arrangement as a "parsonage in a way."
The couple plans to use the home to host receptions for Indiana Landmarks events. Davis ultimately hopes to remove the asphalt parking area and convert the land to green space or a community garden.
A two-story addition was added to the rear of the building at some point. Davis' predecessor at the not-for-profit, Reid Williamson, lived in the apartment for a time until he retired in 2005.
A fire believed to be arson damaged the rear of the home in 2011.
Please enable JavaScript to view this content.