• Fresh Thyme Farmers Market plans to enter the Indianapolis market by opening in 30,000 square feet formerly occupied by The Room Place on the south side at 8750 U.S. 31. The upstart specialty grocery is set to open its first store in January, in Mount Prospect, Ill., with plans for 50 locations in the next six years in 12 Midwestern states, including Indiana, according to the company's website. The company has not disclosed a local opening date.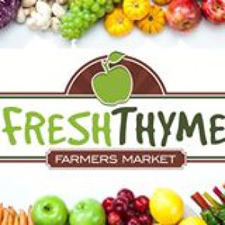 Phoenix-based Fresh Thyme would compete against Whole Foods, The Fresh Market and Earth Fare in the local specialty grocer market. The growing popularity of these smaller community grocery stores has prompted discount giant Wal-Mart Stores Inc. to expand its Neighborhood Market concept.
• Wal-Mart, in fact, as filed plans to build a 41,100-square-foot Neighborhood Market at 900 West Main St. in Plainfield. IBJ reported in August that Wal-Mart was scouting additional locations for its smaller grocery concept. It already operates three in the metro area with plans to open at 131st Street and State Road 37 in Fishers in mid-January followed by another at 5607 N. Michigan Road in the summer.
• Olive Garden is set to open Dec. 2 at 10206 N. Michigan Road on the west edge of Carmel. The 7,660-square-foot restaurant is the Orlando-based chain's first in Carmel, though Olive Garden has locations near Castleton Square Mall, Hamilton Town Center in Noblesville, Greenwood Park Mall, Avon Commons and on East Washington Street.
• Books & Brews, a concept from local entrepreneur Jason Wuefel, is set to open in February in 2,250 square feet at 9402 Uptown Drive, suite 1400, on the city's northeast side. The used bookstore and nano-brewery near 96th Street and Interstate 69 will enable patrons to sip a craft beer while browsing for literature. The tap room at the rear of the location should seat 35. Beers will be named for classical works and authors, in keeping with the bookstore theme.
• Bangkok Restaurant & Jazz Bar, a new Thai restaurant, is scheduled to open Tuesday at 150 E. Ohio St. downtown in the space formerly occupied by Charlie & Barney's. Charlie & Barney's closed in March.
• First Watch, the Florida-based breakfast, brunch and lunch eatery, has opened a fourth location in the Indianapolis area, in 3,036 square feet at the Willow Lake West shopping center at 2902 W. 86th St.
Other area locations are at 143 N. Illinois St. and 3309 E. 86th St. in Indianapolis, and at 1950 E. Greyhound Pass in Carmel.
• Mile Square Coffee Roastery has opened at 12 E. Ray St., Suite B, south of Lucas Oil Stadium near Madison Avenue. The independent shop offers small-batch specialty coffee that can be ordered and picked up by appointment only Monday through Thursday, or from 10 a.m. to 3 p.m. Friday and Saturday.
• Radio Shack is opening a store in 1,800 square feet in Smith Valley Shops at 791 South State Road 135 in Greenwood. The Forth Worth, Texas, electronics chain operates 14 stores in the Indianapolis area.
• Hibbett Sports is taking 5,000 square feet at 1802 E. State Road 44 in Shelbyville. Headquartered in Birmingham, Ala., the company has more than 83 locations in 28 states, including stores in Anderson and Greenfield.
• Planet Fitness is taking the 12,400-square-foot former home of a CVS at 7451 Shadeland Ave. and adding about 14,000 square feet to the space. The clubs are open 24 hours Monday through Friday and 7 a.m. to 7 p.m. weekends. The New Hampshire-based fitness chain also has gyms near Washington Square Mall, Greenwood Park Mall, Metropolis mall in Plainfield, along 86th Street across from St. Vincent Hospital and in Beech Grove.
 
Please enable JavaScript to view this content.