The sun will shine again in the former Indianapolis City Hall at 202 N. Alabama St. The dusky and vacant landmark soon will be put back to use.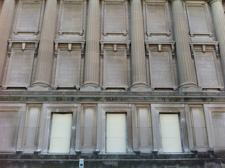 As part of a $150,000 renovation of the first floor, workers are installing three large windows on the historic building's north side where the originals had been removed and covered long ago with matching limestone.
The openings now are temporarily covered until the windows arrive. (See photo above) The work should be finished by the end of the year.
The partial rehab of the building will make it more comfortable for offices and meeting space. The Department of Metropolitan Development's long-range planning team will temporarily inhabit the north side, where the windows will be installed, while the south side will serve the public as an urban planning hub.
In total, the DMD will inhabit about 9,000 square feet on the first floor. Planners will move in early next year.
Having the first floor occupied until a long-term reuse is found is part of a plan by DMD Director Adam Thies to put some life back into in the vacant building. IBJ first reported on the plan in early October.
Later that month, a group of historic preservationists, urban planners, architects and civic leaders explored potential reuses as part of the Washington, D.C.-based National Trust for Historic Preservation's annual conference.
An upscale hotel, a brewery and an event center were among the ideas floated.
"This is probably the toughest building in all of Indianapolis to lease," Thies told a local young professionals organization during a recent walk-through. "Almost half of the building is unusable. I'm frankly tired of paying for this building and having nothing in it."
The building's most unique feature is the rotunda, topped with stained glass, which makes for a majestic foyer but creates a lot of empty space across three upper floors.
The former City Hall opened in 1910 and housed city offices until the arrival of the City-County Building in 1962. It was home to the Indiana State Museum for about 35 years and has been vacant for the past six since it temporarily housed the Central Library.
The local not-for-profit People for Urban Progress is working with the city on the first-floor renovation.
 
Please enable JavaScript to view this content.