A microbrewery is coming to Capitol Avenue downtown, in an area near the Cultural Trail that's experiencing robust residential building activity.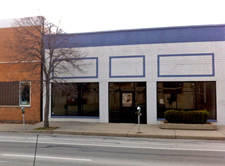 Owners of the upstart TwoDeep Brewing Co. have signed a long-term lease to occupy the 7,000-square-foot ground level at 714 N. Capitol Ave. They hope to have the brewery and tap room operating by mid-May.
Indianapolis native Andy Meyer, 34, quit his job at NCM Media Networks to launch the operation after he "fell in love" with craft beer while living in Chicago, he said. He enrolled in the Siebel Institute of Technology, a brewing school in the Windy City, to help hone his skills. Two other partners also are involved in the business.
"We're right on top of the Cultural Trail, which is a huge asset for us," Meyer said. "[The area] is unserviced, in terms of what we're doing. We're truly creating a destination for people."
Meyer and his two partners first had sought space for their brewery in the Cadillac Building at the northwest corner of Capitol Avenue and Michigan Street. But they ultimately couldn't come to terms on a lease with the building's owner, Cincinnati-based The Stough Group.
The building on Capitol Avenue that they plan to occupy sits just north of where Rowland Design Inc. relocated in late December. The interior design and architecture firm partnered with local developer Loftus Robinson to renovate the property at 702 N. Capitol Ave., which included the addition of a second story.
To the north, a trio of multi-family housing developments could add more vibrancy to the corridor.
TWG Development LLC and Ambrose Property Group are nearing completion of 800 N. Capitol, a 111-unit mixed-income project. And Valparaiso-based Investment Property Advisors is building a 10-story tower including 293 units along the Central Canal.
In addition, owners of the ill-fated Di Rimini apartment project are in the process of presenting design plans to the city for revamping that building at 733 N. Capitol Ave. Restaurateur Mike Cunningham and contractor Patrick Heitz in March bought the vacant 31-unit complex that had been in foreclosure.
Stacia Yeager of the local office of Encore Sotheby's International Realty represented both TwoDeep Brewing and the landlord in lease negotiations.
 
Please enable JavaScript to view this content.