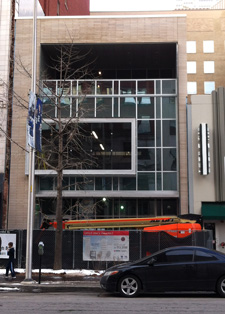 Construction of a new building on a rejuvenated stretch of East Washington Street downtown should be finished by the end of the month.
Now the developers just need to lease the 5,500 square feet that's available on the second and mezzanine levels at 6 E. Washington St.
"Our challenge is finding the right company that will value these unique features," said Bill Ehret. "We've shown it a few times."
Ehret is a local real estate broker and partner with John Demaree in developer Uptown Realty Investors. The pair also own the building next door that houses Jos. A. Bank, as well as the next building to the east—the seven-story McOuat Building. They have transformed the 113-year-old structure into a 21-unit apartment building with first-floor retail space perhaps best suited for an upscale restaurant, Ehret said.
Their latest project, dubbed Six East, sits on a formerly vacant lot. It features floor-to ceiling glass on the second level with a bump-out, and an outdoor patio on the partial third floor, or mezzanine level.
"There's really nothing like it in the market," Ehret said.
Chipotle has signed on to occupy the building's street-level retail space. The restaurant is set to open in March. The new Chipotle will be the Denver-based chain's first downtown.
The architect on the building is Axis Architecture + Interiors.
 
Please enable JavaScript to view this content.