Fearful that a looming bridge construction project might kill his business, Murphy's Steakhouse owner Craig Stonebraker knew he needed to take action.
Instead of waiting around to see if Murphy's could survive months of lane restrictions on the neighboring Fall Creek bridge, Stonebraker has chosen to relocate the venerable restaurant that for decades has called 4189 N. Keystone Ave. home.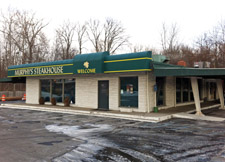 But there's an unusual twist to Murphy's move to 5198 Allisonville Road. That's the address of Pat Flynn's Public House, which Stonebraker, 48, is purchasing on contract from the restaurant's namesake.
Flynn, 58, launched his restaurant in 1997 after managing the former Bulldog Lounge in the Meridian-Kessler neighborhood for 20 years. He called the sale to Stonebraker a "good exit plan," although he wants to remain on staff for at least five years.
Murphy's will serve its last meal at its current, 4,000-square-foot location on Valentine's Day and should be operating at the 5,700-square-foot Allisonville location within the following week. The Pat Flynn's moniker will give way to Murphy's in a total renovation of the space, Stonebraker said.
"The merging of two entities that are kind of a dying breed of restaurants is a cool thing," Stonebraker said.
Stonebraker and Flynn declined to reveal the value of the restaurant sale, as well as the projected cost of the renovation.
The new Murphy's will combine a bit of both establishments. The menu will feature traditional steakhouse items with pub fare. And the staffs will combine to bring total employment to 55.
A decision to open on Sundays, the day both restaurants are closed now, and losing a couple of employees to operate a new, smaller-scale Murphy's Pub on the south side helped Stonebraker justify the need for more workers.
The Murphy's at Thompson Road and Arlington Avenue is expected to open in March. Stonebraker also operates a Murphy's Pub in Fishers at 116th Street and Olio Road.
The décor within the current incarnation of Murphy's looks as though it hasn't changed since Stonebraker bought the business in 1990 with his older brother, Kelly. Stonebraker bought out his share three years later.
As the low-slung design of the building and its carports might indicate, the property's first incarnation in 1958 was as a Frisch's Big Boy drive-in restaurant. It became a steakhouse in 1969 and was purchased in 1977 by Jim Murphy, who dubbed the restaurant Jim Murphy's Steakhouse.
As hard as it is for Stonebraker to move—a decision he called "gut-wrenching"—the building needs major improvements that would warrant a serious investment, he said. What ultimately prompted his decision to move was the replacement of the aging Fall Creek bridge, just a stone's throw from his restaurant's front door.
Work is set to start Feb. 1 with lane restrictions lasting until November. Then, that section of Keystone will close entirely until the project is completed the following summer.
Stonebraker has agreed to lease the two-acre Murphy's property to Boggstown-based Beaty Construction Inc. while it works on the bridge replacement.
As to the future of the building, Stonebraker said "we'll cross that bridge later," so to speak.
 
Please enable JavaScript to view this content.