One of the city's more upscale hotels is closed—but only temporarily.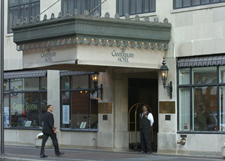 The Canterbury at 123 S. Illinois St. shut its doors earlier in the month as the new owners conducted a liquidation sale of the hotel's furnishings to begin an extensive renovation of the property.
RockBridge, a hotel investment firm based in Columbus, Ohio, announced in September that it would invest about $9.5 million in a comprehensive redesign of the 12-story, 99-room hotel. The project is expected to last nine months.
RockBridge bought the Canterbury in June from local businessman Turner Woodard for $5.3 million, nearly the property's assessed value, according to the county assessor's office.
The renovation will include redesigning guest rooms, revamping elevators and mechanical systems, and completely reconfiguring the first and second floors.
RockBridge vice president Ted Stimson didn't return calls from IBJ seeking comment on the latest details of the renovation. But he said in September that "we'll try to honor the historic nature of the hotel, but there are a lot of things where it's just time to change."
To be sure, the downtown high-end hotel market has become more crowded recently with the construction of the $100 million Conrad Indianapolis and the $450 million JW Marriott complex. The Alexander, an upscale boutique hotel property with 209 rooms, opened in January 2013.
"The hotel definitely needed renovation, there's no question about it," said Mark Eble, Midwest regional vice president for San Francisco-based PKF Hospitality Research. "It clearly needs to be brought into the 21st century."
That said, Eble expects the Canterbury, when finished, will be a four-star hotel that can compete with the Conrad.
As part of the makeover, the hotel will adopt Starwood's luxurious Le Meridien brand, and carry the full name Le Meridien Indianapolis Canterbury Hotel.
Browning Day Mullins Dierdorf Architects is the architect on the project.
The structure dates back to 1928, when it opened as a 200-room hotel called the Lockerbie. Later named the Warren, it was purchased in 1983 by the late Indianapolis real estate developer Fred C. "Bud" Tucker Jr. and renovated as an intimate luxury hotel with its current name.
 
Please enable JavaScript to view this content.