The pending development of part of the former Market Square Arena site has received quite a bit of attention since the city announced in June that it selected Flaherty & Collins Properties to build an $81 million, 28-story apartment tower.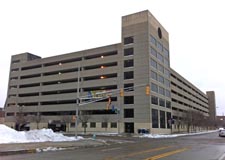 But in the meantime, the city put out another request for proposals to develop a nearby piece of property—albeit much smaller than where Flaherty & Collins plans to build—just east of that site across North New Jersey Street.
It seems the city is interested in developing the block-long sliver of green space that it owns along Market Street between New Jersey and East streets that fronts the parking garage. A new development essentially would serve as a wrap to mask the hulking parking structure.
The city received just one response, however, from Milhaus Development LLC, which is finishing the first phase of its Artistry apartment project across Market Street from the garage.
Milhaus proposed building 35 to 40 apartment units on the long patch of land, but the city rejected its bid for failing to meet the requirements of the RFP, said Adam Thies, director of the Department of Metropolitan Development.
Milhaus wanted to enter into a long-term lease with the city on the property, even though the RFP called for an outright sale of the land.
"It could be a great project; it just simply didn't meet the terms," Thies said. "The rejection has nothing to do with the design or aesthetics."
A representative of Milhaus didn't return phone calls seeking comment.
Thies remains convinced the land "absolutely" makes sense for a housing project. It's just one piece of his goal to transform vacant or idled city-owned properties into tax-generating developments, no matter how small.
 
Please enable JavaScript to view this content.