The street bounding the main entrance to Butler University is about to get a massive makeover.
Work is set to start in April on the roughly $3 million upgrade of Sunset Avenue that will last about a year and ultimately lessen the sharpness of the avenue's curve near historic Hinkle Fieldhouse.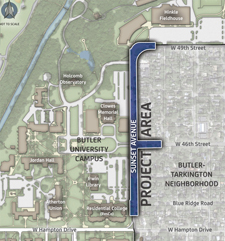 The streetscape project calls for the installation of a boulevard lined with trees, in addition to sidewalks and bike lanes, in hopes of distinguishing the college from the surrounding neighborhood.
"The ultimate goal of the streetscape is to stamp the outer perimeter of the campus," said Ben Hunter, chief of staff to Butler President James M. Danko and a City-County Council member. ""Sometimes you don't realize you've arrived at Butler University."
Improvements to Sunset Avenue will run from 49th Street near Hinkle south to Hampton Drive. Hampton also could be beautified, in a second phase, though no timetable has been set, Hunter said.
Butler has earmarked $1.5 million for the project, and the city of Indianapolis is kicking in the other half. Once finished, Butler will maintain the street and pay the electric bills associated with new streetlights that also will be installed.
The university owns the vacant lot on the south side of the curve where 49th meets Sunset, allowing for the restructuring of the bend. The roadwork, coupled with ongoing renovations to Hinkle, has prompted university officials to move spring commencement ceremonies from the fieldhouse to the Butler Bowl.
"There's a lot of change on the campus," Hunter said.
Indeed, last fall Butler wrapped up a $4 million project that's largely out of public view but should benefit the campus by alleviating the growing college's parking problems.
The university finished improvements to 90 acres it owns west of the Central Canal that's accessible from the campus only by pedestrian bridges or via Lester Road, which runs through the hamlet of Rocky Ripple.
Butler's softball complex, soccer fields, tennis courts and campus farm are on the 90-acre site, which gained three parking lots with a total of 520 spaces as well as a multi-use path extending from the softball field to the farm. The path links to the towpath along the canal.
The addition of the parking spaces has caused Butler to put off a project it announced in 2012 in which it selected locally based Keystone Realty Group to build a parking, retail and residential project on campus between Clowes Hall and Hinkle that would have cost as much as $45 million.
The plans called for about 1,000 parking spaces, up to 10,000 square feet of retail space, and 300 beds of student housing on three acres of university-owned property between Sunset and Lake Road on the Butler campus.
Please enable JavaScript to view this content.