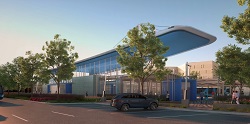 IndyGo unveiled Thursday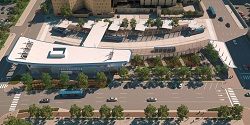 the design of its $20 million transit hub set to be built on a half-block surface parking lot in the heart of downtown. City officials hope the transit hub will serve as a signature structure that could trigger further development in the area.
IndyGo's release of the architectural renderings coincides with Mayor Greg Ballard's State of the City address Thursday evening, in which he mentioned the hub.
"This sleek building will not only transform an empty parking lot, but also serve as the hub for transit," Ballard said in his speech. "Just imagine people waiting inside for a bus connection with coffee and a newspaper, rather than huddled outside on Ohio Street."
Work is expected to begin in the fall; completion is expected by the end of 2015. A federal grant will cover $13.5 million of the cost, with the city picking up the rest of the tab.
The 14,000-square-foot building will be constructed on a 1.9-acre parcel owned by the city and situated on the south side of Washington Street between Delaware and Alabama streets. It's directly across Washington Street from the City-County Building. The hub will have 19 bus bays at the rear, closest to the Marion County Jail.
The project will help spiff up a section of downtown already in the midst of a renaissance. Immediately to the northeast, a portion of the former Market Square Arena site is available for development and is among the sites that Cummins Inc. is considering to construct a downtown building for its Indianapolis employees. To the north of that site, Flaherty & Collins Properties is set to begin construction this year on an $81 million, 28-story residential high-rise.
"Simply put, Indy needs to raise its game," Ballard said in his address. "We need more signature structures that define our skyline. The new, curved MSA tower is modern and inspiring.  The new Mass Ave development contains a digital art screen that will draw people's attention. IndyGo's new Downtown Transit Center definitely fits that mold."
The architects on the project are San Francisco-based URS Corp. and locally based Axis Architecture + Interiors.
Click on the renderings to get a closer look.
 
Please enable JavaScript to view this content.