A Shelbyville craft brewer whose beers are in dozens of restaurants, pubs and stores across Indiana is building a production brewery and tap room in Speedway.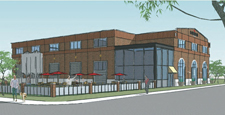 Daredevil Brewing Co.'s plans call for a 10,000-square-foot building to be constructed on a two-acre lot that it purchased at the southeast corner of West Main and Gilman streets.
Daredevil expects to break ground in the summer and be operating early next year. The building will be more than three times larger than Daredevil's production facility in Shelbyville, which lacks a tap room for retail sales.
"The ability to actually build from the ground up was something that we thought would really help us long-term, and we really liked the location and what Speedway is doing with the redevelopment," said Shane Pearson, a co-owner of Daredevil.
Pearson started the company in 2012 along with his brother, Michael Pearson, and Bill Ballinger.
Daredevil's plans will converge with an ambitious $500 million redevelopment project from Speedway officials to transform the town into a year-round racing-themed destination. The 400-plus-acre project includes road improvements, land acquisition and a total makeover of Main Street.
Pearson declined to divulge how much Daredevil will invest in the Speedway operation, instead choosing to wait until the groundbreaking to make the announcement. But he said it will be "substantial." The architect is RB+B Architects in Fort Collins, Colo., a designer of several production breweries.
Daredevil is best known for its Lift Off IPA, which it brews year round and is distributed by Monarch Beverage Co. in kegs and cans.
Daredevil is the latest craft brewer to announce an opening or expansion. Among those making moves:
• Outliers Brewing Co. at 534 E. North St. near Massachusetts Avenue opened in early December. The production brewer, operated by Broad Ripple's Brugge Brasserie owner Ted Miller, provides beer to local bars and restaurants. A brewpub called The Owner's Wife should open next door by late spring.
• TwoDeep Brewing Co. has signed a long-term lease to occupy the 7,000-square-foot ground level at 714 N. Capitol Ave. The owners hope to have the brewery and tap room operating by mid-May.
• Black Acre Brewing Co. in Irvington has received a zoning variance allowing it to increase brewing capacity from three to 15 barrels. The company is leasing space to expand brewing operations at 5543 Bonna Ave., about two blocks south of Black Acre's brewpub at 5632 E. Washington St.
 
Please enable JavaScript to view this content.