A commercial building tucked away in a Castleton office park is finished serving as a restaurant destination.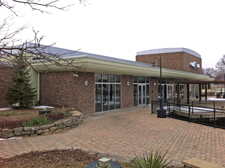 Moser Consulting Inc. bought the building at 6220 Castleway W. Drive that last housed the upscale Z's Oyster Bar & Steakhouse. The tech firm paid $700,000 and plans to invest a total of about $1.4 million to convert it into office space.
Moser won't be moving far, though. The one-story, 12,000-square-foot building that fronts a large retention pond is about twice the size of Moser's current space, which it leases at 6081 E. 82nd St. It's also in Castleton and just across the water from the company's new headquarters.
Louisville-based Z's Oyster Bar occupied the building from 2007 until about 2012, when First Federal Savings Bank foreclosed on the property. Previously, the address was a former Cantina Del Rio location, part of a chain of Mexican-style restaurants created by Bob Evans Co.
Although the building is visible from Interstate 465, finding it can be a real challenge, which doesn't bode well for a restaurant, said Steve Delaney, a retail broker at Sitehawk Retail Real Estate.
"It's a classic situation where you can see it from the interstate, but you can't get to it," he said. "It's real deceiving, and other than that, it's back in an office park. You really had to know how to get there."
Work on the conversion started late last month with completion expected in August, said Ty Moser, who founded Moser Consulting in 1996.
"We're excited to have the project under way, and we look forward to moving in later this year," he said.
The new space will feature a mix of offices in an open concept, a lounge/break room, meeting space, and a workout center for the company's 112 employees.
Upon taking possession of the property, Moser promptly donated a few restaurant remnants left from Z's. A freezer and washer-dryer set went to Wheeler Mission and employee lockers to Teachers Treasures.
Curran Architecture in Indianapolis is designing the new space.
 
Please enable JavaScript to view this content.