A $3.6 million, 34-unit apartment project is in the works for a vacant piece of land along Meridian Street just north of downtown.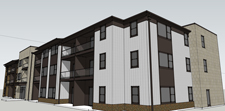 Urban residential specialist Axia Urban LLP is co-developing the project with Near North Development Corp., which is seeking $550,000 in grants from the city to help with financing.
The government assistance requires that a portion of the apartments, 11 units, be set aside for affordable housing. Monthly rents for the rest will be priced at market rates, said Gary Levine, a partner at Axia Urban along with Jeff Congdon.
"We're very excited about this project," Levine said. "It's the first piece of land Jeff and I purchased together."
The nearly one-acre parcel on the east side of Meridian just north of 21st Street became part of their portfolio in 2006. The last building standing on the site was an old abandoned Chinese restaurant.
Axia Urban, though, has a large presence in the near-north area. They purchased and renovated the buildings that became Meridian Walk, The Sheldrake and The Warren. The Warren sits directly across Meridian from the vacant piece of land Axia Urban is developing with Near North Development Corp.
Axia also owns the home that has been converted to office space to the immediate south of the vacant lot, which once housed Near North's headquarters. That's how Axia became familiar with the community development corporation.
The proposed three-story project along North Meridian Street is their first together. For Near North, the project is part of its plan to develop more multifamily housing projects.
"We're increasingly focused on that Meridian-Highland area," Near North President Michael Osborne said. "The opportunity was right to kind of launch a development project there to kick off our efforts."
The apartment project could be the latest in a series of commercial developments that are helping to revitalize the area.
Hamid Abbaspour, president of the Dr. Aziz pharmacy and medical clinic on East 82nd Street, is proposing a 5,000-square-foot mixed-use development at 2301 N. Meridian St.
The two-story building would be constructed on a vacant lot where Sherry's Nightclub formerly stood. Abbaspour is proposing a family practice or urgent care center that Dr. Aziz would operate on the first floor, with either residential or office above.
Also, Lincoln Square Restaurant & Pancake House and Teas Me Cafe & Gifts have opened in the neighborhood, along with charter schools Phalen Leadership Academy and Carpe Diem.
The property owned by Axia Urban will need to be rezoned from commercial to residential. A city hearing on the project is set for April 10.
The architect on the project is A3 Design.
Please enable JavaScript to view this content.