A micro-distillery is preparing to open on Virginia Avenue in the Fletcher Place neighborhood just south of downtown.
That may not seem unusual, considering the new state law that allows already-licensed breweries, wineries or distilleries to obtain a permit to produce and sell spirits by the glass, bottle or case.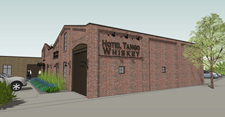 But what is very likely unique is that Hotel Tango Whiskey at 702 Virginia Ave. will be co-owned by a disabled veteran—and is believed to be the first such distillery in the country. It also has a deal with the state for economic development incentives.
Former U.S. Marine Travis Barnes, along with his wife, Hilary, and friends Adam Willfond, Brian Willsey and Nabeela Virjee, founded the company in 2013 and received their license to begin producing whiskey, gin, moonshine and vodka this year. They hope to open in August.
Barnes and his partners plan to invest $400,000 in the distillery and have signed a five-year lease to occupy 3,500 square feet—split between production and a tasting room, lounge and retail space.
They've pledged to hire 21 employees within the next five years in exchange for $160,000 in conditional tax credits from the state based on the company's job-creation plans.
"We'd like to make the majority, if not all [of our hires], disabled veterans," the 31-year-old Barnes said.
Barnes is a native of the northeastern Indiana town of Albion who dropped out of Indiana University-Purdue University Fort Wayne following 9/11 to join the military.
"I definitely thought I had a call of duty," he said. "I hadn't decided exactly what I was going to do. The Marine Corps definitely gave me a lot of time to think about what I wanted to do."
Barnes served on a special operations Recon team and was involved in the initial invasion of Iraq and did subsequent tours in Fallujah and Ramadi. During his service, he suffered a traumatic brain injury.
After returning home, he earned an undergrad degree and was accepted to law school at Robert H. McKinney School of Law in Indianapolis, graduating in May 2013.
Instead of pursuing a law career, and aware of the growing support in Indiana for micro-distilleries, he opted to begin the process of obtaining an Indiana permit.
Micro-distilleries can sell up to 10,000 gallons per year from their own premises but are unlimited in the amount they can sell through a distributor.
The Hotel Tango Whiskey name is derived from the military phonetic alphabet. The letter "H" translates to "hotel" but also honors his wife Hilary, the letter "T" translates to "tango" but also stands for Travis, and the word that represents the letter "W" in military-speak is "whiskey."
SITE Architecture in Fishers is the architect and landscape architect for the project.
 
Please enable JavaScript to view this content.