A proposed overhaul of the Indianapolis zoning code should make life a lot easier for commercial developers.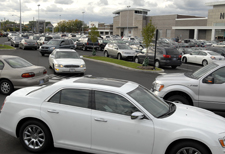 As IBJ reporter Kathleen McLaughlin reported in the May 17 print edition, city planners are preparing to unveil Indy Rezone to the public June 10 at the Central Library.
It's the first comprehensive revision since 1969 and is meant to wean the city off of the suburban-style, cookie-cutter designs the current code encourages. Often, developers are forced to spend a lot of time and money obtaining variances to skirt the regulations.
Among the proposals most likely to have the biggest impact on developers: eliminating the minimum 70-foot front setback in commercial districts; scaling back the number of parking spaces required; and creating mixed-use districts to accommodate the growing number of developments combining residential with retail.
"They're trying to streamline the process and make it easier," said Joe Whitsett, president of TWG Development LLC, about the city's efforts. "Getting those variances is not difficult, but you still have to go through it and you still have to pay for it."
No minimum setback is required in downtown's central business district. But, say, in the Lafayette Square area, where plans are under way to make it a cultural district, the minimum setback might be cut in half, to 35 feet, said Tammara Tracy, the Department of Metropolitan Development's principal planner.
Parking is another issue in which variances are routinely granted, typically for projects that simply don't need as many spaces as required. Under the new proposal, the requirement would go from one space for every four seats in a restaurant to one space for every five seats.
For general retail projects, one parking space would be needed per 350 square feet instead of the current 285-square-foot requirement. And for commercial spaces smaller than 5,000 square feet, no spaces would be necessary, Tracy said.
More broadly, the proposed code contains four new mixed-use zones enabling developers to avoid requesting a variance or rezoning for what basically amounts to a commercial planned unit development designation, she said.
"It makes it easier for them," Tracy said. "That's our objective."
Indy Rezone is the result of nearly two years of work, made possible by a $1.2 million grant from the U.S. Department of Housing and Urban Development.
Please enable JavaScript to view this content.