Hot restaurateur Ryan Nelson's new barbeque joint opened Tuesday in Nora Shops West along East 86th Street.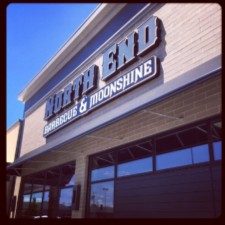 North End Barbecue & Moonshine offers traditional American barbecue from different regions of the country. A sampling of the menu includes Texas brisket, Carolina pulled pork, Memphis baby back ribs and St. Louis spare ribs, with four sauces from which to choose.
"It's a fantastic location," Nelson said. "The Nora area itself doesn't really have a sit-down restaurant, and there's a ton of office space around here."
Local foodies know Nelson from his first restaurant, Late Harvest Kitchen, which he opened in 2012 near Keystone at the Crossing.
North End occupies 4,700 square feet and anchors the eastern portion of the 8,000-square-foot Nora Shops West, which also is home to a Starbucks. Artisano's Oils & Spices is on track to open in July and will bring the building to full occupancy.
Nelson's restaurant seats about 150 and will have space for another 50 once the outdoor patio opens. That should happen within the next week.
Lunches run about $15 and dinners in the low-$20 range.
Hours are 11 a.m. to 10 p.m. Monday through Saturday and 4 p.m. to 9 p.m. Sunday.
In other news:
— Jiallo's African-Caribbean Cuisine is taking the space vacated by Currito in Circle Centre mall's food court. Owner Mohammad Jiallo, who operates an existing location at 4202 W. 56th St., is shooting for an early July opening.
On the menu: oxtail; curry goat; beef kabobs; grilled steak; tiebdjen, a fried fish dish; and a variety of chicken dishes, including curry chicken, jerk chicken and chicken yassa.
— Ben's Soft Pretzels has opened in Circle Centre. It's the 14th location for the Elkhart-based franchise. Kim (Barrier) McGuire, 1986 Miss Indiana Basketball from Elkhart, and business partner Candy Cox operate the store.
— The Room Place opened May 23 at 8401 N. Michigan Road in 40,500 square feet formerly occupied by a Gold's Gym. The Woodridge, Ill.-based furniture store has locations in Castleton, Carmel and Greenwood.
Please enable JavaScript to view this content.