Goodwill Industries of Central Indiana is opening a new store in Indianapolis on Tuesday.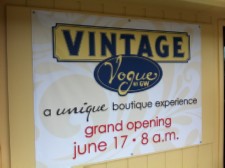 But this one is quite different than the not-for-profit's typical outlets. It will be the only one in the city selling just vintage clothing. The boutique-style shop is opening in space formerly occupied by an Arthur Murray Dance Studio just west of Keystone Avenue at 2361 E. 62nd St. in the Glendale area.
Called Vintage Vogue by GW, the only other one is in Bloomington. It's a relatively new concept that Goodwill is looking to grow. If the Indianapolis store is successful, another boutique could open downtown, said Kent Kramer, Goodwill's chief operating officer.
"We kind of look at it as fashion-forward, brand-name labels, vintage-type items," he said. "It's primarily clothing, but we also have unique, quirky home goods and furnishings."
Goodwill will stock the store from donations to its other stores.
"We'll do a little more of a thorough sort and pull out identifiable items that we think would do well in a boutique setting," Kramer said.
The store is about 2,500 square feet, much smaller than the standard 16,000-square-foot Goodwill store.
The new Vintage Vogue by GW location is just one of several stores Goodwill has either opened recently or will yet this year.
In May alone it opened stores in Connersville and Muncie, and relocated its Greenwood outlet.
Another store, on West Washington Street east of Interstate 465, is set to open in July. There, Goodwill demolished its existing store and moved into a vacant Walgreen's next door at 5720 W. Washington St. while the new store is going up on the existing site.  
Goodwill also is building new stores in Plainfield and another in the Anson development near Whitestown and Zionsville. They are set to open late this year.
Overall, Goodwill Industries of Central Indiana operates 49 retail outlets. That number could reach 57 within the next few years.
 
 
Please enable JavaScript to view this content.