The downtown building that's housed Dunaway's restaurant for more than 15 years is on the auction block, which could signal the end for the upscale eatery.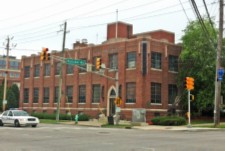 Jeff Dunaway, who opened the restaurant in 1998, is accepting bids—starting at $800,000—on the building at 351 S. East St. until July 8.
Dunaway did not return phone calls to IBJ seeking comment. But his listing agent, Bill French of Cassidy Turley, said Dunaway had quietly marketed the building to restaurateurs the past few years without attracting a suitable offer.
"We decided that since we have had activity, this is a good way to accelerate the marketing," French said of the auction process.
French's colleague at Cassidy Turley, Ray Simons, is coordinating the auction.
The 11,700-square-foot building sits at the northeast corner of the intersection where East and South streets meet Virginia Avenue. It wasn't always there, though.
The Indiana Oxygen Co. built it in 1930 a few blocks away on South Delaware Street to house its office and factory. The company manufactured bottled oxygen and hydrogen there until neighboring Eli Lilly and Co. bought the building in 1991, according to Dunaway's website.
Lilly donated it to the Historic Landmarks Foundation of Indiana, which moved the building to its current location to avoid demolition. It's listed in the National Register of Historic Places.
Dunaway, a local restaurateur and former owner of St. Elmo's Steak House, purchased the property in 1998 and opened Dunaway's, the restaurant's website says.
"He's an industry veteran; he's been there for a lot of years," French said of Dunaway. "I think he has other plans going forward."
The restaurant remains open for now. Entrees, ranging in price from $30 to $46, include prime rib, filet mignon and New York strip steak, as well as sea scallops, North Atlantic salmon and lobster ravioli.
Please enable JavaScript to view this content.