First the Biglari name, now the Steak n Shake moniker adorns the downtown building that houses the steakburger chain's headquarters.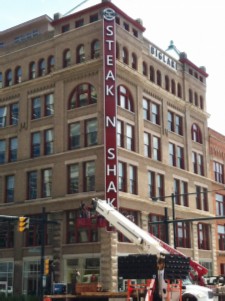 Property Lines reported earlier this month when the letters to spell Biglari, as in San Antonio-based Biglari Holdings Inc. and parent of Steak n Shake, became affixed to the side of the Ober Building facing Pennsylvania Street.
Installed this week, the new Steak n Shake sign runs vertically and replaces the Business Furniture sign that stood guard over Pennsylvania and Maryland streets for decades.
An affiliate of Steak n Shake purchased the six-story office building at 107 S. Pennsylvania St. in February 2013 for $3.1 million from the Capital Improvement Board of Marion County.
Biglari Holdings is led by CEO Sardar Biglari. As of April, it operated 530 Steak n Shake restaurants, 415 of which were company-owned, and 83 Western Sizzlin eateries.
 
Please enable JavaScript to view this content.