Local apartment developer TWG Development LLC wants to build 120 units on downtown's south side as part of a mixed-use development anchored by a restaurant.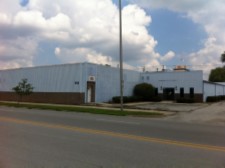 A joint venture between TWG and Vince Shimp, a local appraiser who operates South Meridian Properties, bought a 22,000-square-foot building at 915 S. Meridian St. just south of the Greek Islands eatery.
The team paid $459,000 for the vacant property and financed the acquisition through the Local Initiatives Support Corp., said Dennis Dye, a TWG principal. Total investment in the project could top $19 million.
TWG is exploring two options for a development, which will extend across the street to a surface lot that Shimp owns.
The preference is to salvage the original part of the building at 915 S. Meridian St., which totals about 15,000 square feet, and convert it into a restaurant and build the apartments across the street. The other option is to demolish the entire structure and build apartments above a restaurant, with more units across the street.
TWG is exploring historic tax credits for the project, which could be finalized in the next 90 days, Dye said. Construction could start in the next year.
Downtown's apartment boom has not yet extended that far south, but TWG is hoping to change that.
"There's a little bit of activity starting down there," Dye said. "That site was available and pretty important to the overall picture, so we thought we ought to grab it."
The original building on the property, which was added onto in the 1960s or early 70s, dates to at least the early 1920s. It housed Kraft's South Side Baking Co. for years. Owner Philip Kraft retired and sold the building in 1968 to a wholesale plumbing company, which built the addition that shields the original front façade.
Universal Supply, a wholesaler of heating and air conditioning parts, last occupied the building.
Please enable JavaScript to view this content.