The growing Fletcher Place neighborhood welcomes another restaurant Thursday (Oct. 2).
Milktooth is open at 534 Virginia Ave. in the former Downtown Car Care space at 534 Virginia Ave.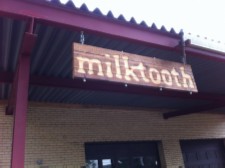 The restaurant is operated by Jonathan Brooks, 29, who grew up working in Indianapolis restaurants, starting as a dishwasher at The Jazz Kitchen when he was 14. He traveled to Portland, Seattle and Chicago before returning and spent 4-1/2 years at Recess on North College Avenue, the last two as chef de cuisine.
He quit in June to focus on Milktooth, where meals range from large baby cornmeal pancakes for breakfast to lamb patty melts at lunch, with wine, beer and spirits available. Plates range from $6 to $15.
Hours are 9 a.m. to 4 p.m. daily.
Also in Fletcher Place:
Caffe Nonna at 629 Virginia Ave. is set to open later this month. Operated by David Page, the cafe will serve 28 flavors of gelato, using original recipes. Coffee drinks and pastries also will be available.
Keeping with the coming soon theme:
Giordano's expects to open its first Indianapolis location in late fall or early winter, says the Bring Giordano's Pizza to Indianapolis Facebook page created by the Chicago staple.
Giordano's has signed a lease to occupy 4,000 square feet at 4110 E. 82nd St. in the renovated Rivers Edge shopping center where Sangiovese Ristorante had long been located,
Sangiovese is reopening in the Ironworks apartment-and-retail development at the southwest corner of North Keystone Avenue and East 86th Street.
Squealers BBQ Grill plans to open in 5,340 square feet at 5899 E. 86th St. in the Castleton space vacated in 2010 by Max & Erma's. Mooresville-based Squealers has barbeque joints in Mooresville and at 5515 W. 86th St. in Indianapolis.
 
McAlister's Deli is opening in Castleton Square Mall, according to the Ridgeland, Mississippi-based chain's website. McAlister's has 10 locations in the area and is taking the space formerly occupied by Asian stir-fry restaurant Stir Crazy. It closed in January 2013.
Downtown:
The Indianapolis Museum of Contemporary Art is opening a gallery Friday (Oct. 3) in 3,000 square feet at Buckingham Co.'s CityWay development at Delaware and South streets.  
The gallery, sponsored by Buckingham Foundation, will open at 6 p.m. and feature a special exhibit of Richard Mosse's Fermata. Helado Negro will perform at 9 p.m. Entry into the gallery is free.
Elsewhere:
Dollar General is opening Saturday (Oct. 4) at 2120 W. Morris St. on the city's near-southwest side. The first 50 shoppers will receive a $10 Dollar General gift card, and the first 200 will receive a Dollar General tote bag.
The Goodlettsville, Tennessee-based discount retailer operates more than 40 stores in the Indianapolis area.
Closings:
Romano's Macaroni Grill at 5720 W. 86th St. in the Trader's Point shopping center has closed. This follows the closing in July of the Macaroni Grill in Carmel off 116th Street just west of Keystone Parkway.
The WiP Downtown salon at 363 N. Illinois St. above Acapulco Joe's has closed. It had been open since 2002, according to the studio's website.
 
Please enable JavaScript to view this content.