Roll With It Bakery at 5539 E. Washington St. in the heart of the Irvington is moving to the planned Coal Factory redevelopment a few blocks south.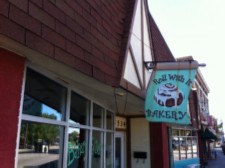 Taking the bakery's space on East Washington Street will be caterer and food-truck operator Chef Dan's, which will bring its mobile menu of Cajun classics to the bricks-and-mortar location.
The food truck will remain in operation, said Allison Carter, who operates Chef Dan's Southern Comfort Food Truck & Catering with her husband, Daniel Carter.
"People ask us every day if we have a restaurant," she said. "That's how it came about. It really wasn't in our business plan."
The couple started the catering business in 2009 and the food truck in 2011. Before that, Daniel opened the kitchen of the Indianapolis downtown Marriott and cooked for the Indianapolis Colts as executive sous chef at the RCA Dome.
Chef Dan's Southern Comfort Restaurant should open by the first of next year. The 1,600-square-foot space will seat roughly 25 and feature entrees priced from $9 to $14. They include Po-Boy and Southern fried chicken sandwiches, in addition to Cajun pasta, macaroni and cheese and a seafood platter.
Chef Dan's will be open Tuesday through Saturday for lunch and dinner. The Carters also are seeking a permit to sell beer.
Meanwhile, Roll With It hopes to open by mid-December in the Coal Factory project on Bonna Avenue where Black Acre Brewing Co. also plans to expand its brewing operations.
The 50,000-square-foot development owned by a Black Acre entity is targeting a mix of restaurants, retail, artisan food production, arts and entertainment offerings, and shared office space.
Roll With It's move also will bring a name change to the bakery: Rise Bread Co. and Coffee Cafe.
"We thought it was a fitting name," said Karen Kuhn Staley, who co-owns the bakery with Jessica "Tess" Ireland. "We're on the east side, we get the sun, we rise our bread."
Ireland is a graduate of the Le Cordon Bleu North America Culinary School, Scottsdale, Arizona.
An expiring five-year lease prompted the owners to search for a new location. They chose the Coal Factory, which offers more parking, additional space for expansion, and outdoor seating. Roll With It has been at its current location since opening in 2009.
• In other restaurant news, Burgerhaus opened Oct. 4 at 335 W. Ninth St. in the 9 on Canal apartment project. The Valparaiso-based restaurant features a menu of burgers, salads and sandwiches, with burgers priced from $9 to $13. This is its second location.
Hours are 11 a.m. to 10 p.m. Monday through Thursday, in addition to Sunday, and 11 a.m. to 11 p.m. Friday and Saturday.
 
Please enable JavaScript to view this content.