A splash park and ice rink could be built on the City-County Building's plaza as part of a city-sponsored contest to remake the outdoor space.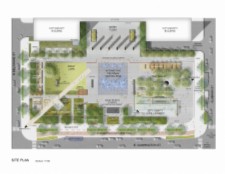 Mayor Greg Ballard on Thursday morning unveiled the winning design submitted by Baltimore-based Design Collective, which will receive $15,000 and a chance to build its design when funding becomes available.
Estimated cost of the project is $12.5 million. The city and the Central Indiana Community Foundation have begun fundraising efforts to pay for the design and construction of the project.
"The winning plan will recreate the City-County Building plaza into downtown's new backyard," the mayor said in a written statement. "
Besides the splash park and ice rink, the design also features a cafe, game area, presentation platform and outdoor seating area. It also recognizes the former Marion County courthouse that stood on the site until its demolition in 1962 by outlining the building's footprint with pavers.
The contest drew 23 designs. Finishing second and third were Chicago-based PORT Architecture and Urbanism and Cleveland-based Westlake Reed Leskosky, which will receive $7,500 and $2,500, respectively.
Please enable JavaScript to view this content.