Part of a large downtown condominium development is up for auction Thursday to help satisfy a loan default on the property.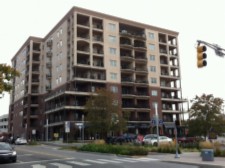 The ground-level retail portion of the Villaggio at Page Pointe at 443 Virginia Ave. is on the block. The seven units totaling 14,500 square feet are garnering a lot of attention from potential buyers, said Seth Seaton, vice president of Key Auctioneers, which will conduct the auction.
"We've had more interest in the early stages of the marketing campaign than we typically have," he said. "It's a great site, and someone's going to do really well with this."
Tenants include Body Works Day Spa, Ember Urban Eatery, Fitness Now and Midwest Oral Health. Condo units that have been purchased will remain in the hands of their owners.
The lender on the project, First Horizon Home Loans, filed in August in Marion Superior Court to foreclose on the property. The bank claimed in its suit that Page Pointe Development owes a balance of nearly $5.2 million on the $11.6 million loan.
Page Pointe Development received the loan for the 9-story, 64-unit building at the entrance of the thriving Fletcher Place neighborhood in February 2008. It opened in April 2010.
There is no starting bid for the live, on-site auction, Seaton said.
"It will sell for whatever it sells for," he said.
 
Please enable JavaScript to view this content.