The Eskenazi Health hospital took the top honor at Wednesday evening's Monumental Awards banquet, an annual event that recognizes excellence in architecture, engineering and construction.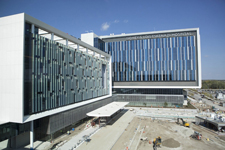 Winners in nine categories compete for the Monumental Award, presented by the Indy Chamber.
Matt Gutwein, CEO of the Health and Hospital Corporation of Marion County, which owns the hospital, said following the win that the team was "incredibly honored" to be recognized by the Chamber.
 "I think our project represents the entire city of Indianapolis," he said. "It really was a community effort."
The $754 million facility on the IUPUI campus opened in December and replaced the aging Wishard Hospital about a block away.
St. Louis-based HOK was the lead architect on the project, and the Indiana office of Chicago-based Pepper Construction Co. the construction manager.
Pepper won for its construction of Eskenazi Health, putting the hospital in contention for the Monumental Award along with eight other projects.
Winners from the other categories were:
• Simon Skjodt International Orangutan Center, Browning Day Mullins Dierdorf Architects, architecture
• St. John's Catholic Church courtyard, Browning Day Mullins Dierdorf Architects, landscape architecture
• Ratio Indianapolis studio renovation, Ratio Architects Inc., interior design
• Simon Skjodt International Orangutan Center, Circle Design Group Inc., engineering
• Artistry apartments, Milhaus Development LLC, real estate development
• Avondale Meadows Health and Wellness Center, neighborhood revitalization
• Stadium Lofts, Core Redevelopment, innovative reuse
• Bright City, Arts Council of Indianapolis, public art
Panels of judges selected the winners in each category. Full disclosure: I served on the panel that chose Eskenazi Health as the Monumental Award winner.
 
Please enable JavaScript to view this content.