A sliver of downtown land owned by the city of Indianapolis along the Central Canal is set for a major makeover that could cost up to $800,000.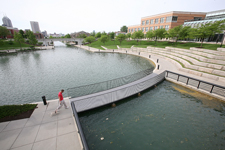 The Indianapolis Parks Foundation and Downtown Indy on Tuesday released a request for qualifications for a "playscape project" on the nearly one-acre parcel between West Saint Clair and West Walnut streets adjacent to the USS Indianapolis memorial.
Deadline for submitting is Dec. 16.
The project will include utility and curb and asphalt work, parking areas, playground features, a shade structure, plantings, irrigation, furnishings, and lighting and signage.
The Foundation and Downtown Indy plan to select three firms and give them $5,000 each to work up a design from which they'll choose a winner. Ground could be broken in the summer with completion by the end of October.
Funds will need to be raised to complete the project, which is budgeted to cost between $500,000 and $800,000, according to the RFQ.
"It's a great piece of ground," Downtown Indy President Sherry Seiwert said. "Hopefully, somebody who is very creative can make it work."
 
Please enable JavaScript to view this content.