A property owner who wants to open a convenience store and gas station at East 10th Street and Emerson Avenue has worked up an alternative design in hopes of avoiding a zoning battle with neighborhood groups.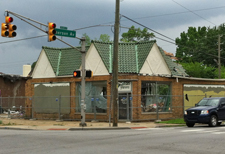 Neighbors first noticed the partial demolition of a vacant one-story retail building at the northwest corner of the busy intersection—across the street from a Village Pantry and near the Steer Inn restaurant—in late May. All that remains is the façade (see image above),
But that could change sometime next year regardless of whether a city zoning board grants the property owner, Balwinder Singh, the variances needed to build the service station the way he prefers—with the façade incorporated into the design.
That's because he has prepared an alternative design that might not need the variances. That plan calls for the building to be built farther away from the intersection without incorporating the façade, which would be torn down completely.
Singh has the backup plan in his pocket in case the zoning board doesn't approve his original plan that needs the variances, which is likely given the stiff resistance it's receiving from neighbors.
On Tuesday, the zoning board granted Singh a continuance until Feb. 10, to give the city's Department of Code Enforcement time to determine whether the backup design will need a variance or not.
Regardless, Singh plans to press on with his plans for the gas station, said his attorney, David Retherford.
"We will continue to tweak [the plan] until we don't need a variance," he said. "I'm fairly confident that we can find some sort of plan that the city will approve to put something on there without a variance."
At Tuesday's meeting, opponents wanted the zoning board to deny Singh's original plan, instead of granting him a continuance, and make him re-file paperwork for the alternative design, which he wouldn't be able to do for another three months according to zoning rules.
"It's a proposed wholesale change in what they would be proposing to develop," eastside resident David Hittle said at the meeting. "To be truthful, what's happening is they're looking for a way to get this through the Department of Code Enforcement without needing a variance, thereby bypassing this board and any public scrutiny."  
The property already is zoned for commercial use that allows for a gas station.
The brick building with a clay-tile roof bears no historical significance, but the high-profile corner on which it sits should be able to attract a better use than a gas station, opponents argue.
The building last housed a used-furniture store and a strip club, and has sat vacant for at least three years. Singh bought the property for $38,000, according to city records.
 
Please enable JavaScript to view this content.