Here's to the last Property Lines roundup of 2014, and to a prosperous New Year.
• Bacon Legs & Turntables, or BL&T for short (not to be confused with bacon, lettuce and tomato), is set to open at 1 N. Meridian St. in the King Cole building by the end of the month.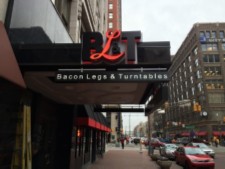 The restaurant, a first for its Phoenix operators, features a full breakfast, in addition to soups, sandwiches and entrees. Its menu, however, is heavy on bacon and a wide variety of legs—including turkey, chicken, frog and hog—hence the restaurant's name. The turntables come into play late at night, when a DJ spins tunes.
BL&T will be open 24 hours on Fridays and Saturdays.
IBJ first reported on the BL&T opening in July.
• Cropichon et Bidibule is scheduled to open at 735 Massachusetts Ave. north of Mesh by the end of January.
The crepe-themed bistro will be operated by French natives Stephane and Kathy Coueffe, who moved to Indianapolis to be closer to family.
Cropichon will occupy 2,600 square feet. Part of the space formerly housed Complexions Spa Salon & Boutique, which moved to 5420 N. College Ave.
In Fountain Square:
• Wildwood Market opened Wednesday at 1015 Virginia Ave. in a vacant building last occupied by a used-car dealership.
The market, owned by Fountain Square residents Craig and Emily Sanders, features typical staples such as milk, produce and cheese, in addition to more unusual items such as the vegetarian meat substitute seitan and edible cookie dough.
Soup and sandwiches will be available in January.
Craig Sanders, 31, spent several years in sales at Traders Point Creamery in Zionsville. The property in Fountain Square is owned by local developer Chris Piazza, who hopes to lease the adjoining parking lot to food-truck vendors.
• Kuma's Corner is set to arrive from Chicago sometime in April, Luke Tobias, an owner of the heavy metal-themed burger joint, told IBJ.
The restaurant is taking nearly 7,000 square feet at 1127 Prospect St. next to Radio Radio.
Far from a sports bar, Kuma's plays metal music to complement its Black Sabbath, Iron Maiden and Metallica burgers, among others. Patrons can wash it all down with a wide selection of craft beer.
"I've got TVs, but we don't play sports on them; maybe horror shows," Tobias said. "We like Judas Priest and whiskey."
Kuma's launched in 2005 and has two locations in Chicago. The Fountain Square location will be its first outside the Windy City.
In Fletcher Place:
• In case you missed it Monday, 12.05 Distillery has begun shipping vodka from 636 Virginia Ave. and plans to open the accompanying Repeal Restaurant in April.
The distillery is owned by Teresa Webster, wife of Bill Webster, who operates Fountain Square Brewery. She's spent the past three years as the brewery's sales manager and has a background in real estate sales.
12.05 vodka is now available at hotel restaurants Spoke at Steele at Le Meridien and Taggart's at Crown Plaza, in addition to Libertine, Platt 99 and the Gathering at Geist.
In the suburbs:
• The RoomPlace furniture store is set to open in February in 27,000 square feet at 2575 E. Main St. in Plainfield near Metropolis Mall.
The space is within a former Wal-Mart. The remaining portion is occupied by Burlington Coat Factory.
A RoomPlace opened in May at 8401 N. Michigan Road in 40,500 square feet formerly occupied by a Gold's Gym. The Woodridge, Ill.-based furniture store has locations in Castleton, Carmel and Greenwood.
One closing:
• H2O Sushi in Broad Ripple has closed, owners Eli Anderson and Nicole Ankney-Anderson announced Tuesday on the restaurant's Facebook page.
"After so many years and truly amazing experiences, Nicole and I have decided to bring to an end this chapter of our lives and close our beloved H2O restaurant," the post read.
Anderson and Ankney-Anderson said they will continue to host private parties from the space at 1912 Broad Ripple Ave., as well as operate their personal chef business from the same location.
 
Please enable JavaScript to view this content.