For what looks to be the last Property Lines blog post of the year, here's a bird's-eye view of the construction occurring on the new IndyGo transit center, taken from atop the City-County Building. (Thanks to those who helped me accomplish the task.)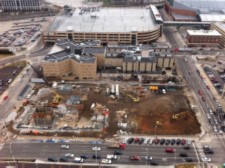 IndyGo has mounted a webcam to chronicle construction in real time. To track the project's progress, click here.
IndyGo is building the $20 million, 14,000-square-foot hub on the site of a half-block surface parking lot just north of the Marion County Jail and along East Washington Street in the heart of downtown.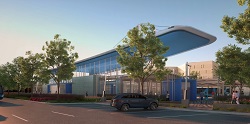 Completion is expected by the end of 2015. A federal grant is covering $13.5 million of the cost, with the city picking up the rest of the tab.
The architects on the project are San Francisco-based URS Corp. and locally based Axis Architecture + Interiors. (See rendering above.)
• Staying downtown, but on a totally different front, Firehouse Subs at 47 S. Illinois St. in Circle Centre mall has closed.
 
Please enable JavaScript to view this content.