The former Amici's Italian Restaurant building downtown is poised for a major renovation and should be home to a new eatery sometime this fall.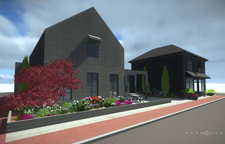 Mike Cunningham, whose Mass Ave restaurants Mesh, Bru Burger and Union 50 all have opened within the past five years, received approval Wednesday from the Indianapolis Historical Preservation Commission to proceed with his latest project.
Beside the revamp of the building at 601 E. New York St., plans call for the construction of a structure on the adjacent parking lot to the east. An addition to the rear of the existing building will be torn down.
Cunningham also had envisioned demolishing the original, 150-year-old building. But IHPC members made clear in November that they wouldn't support that.
The new, 3,000-square-foot building will seat about 110, including 80 in the dining room. The original structure, with 1,000 square feet on each level, will house the bar on the ground floor and event space above. Foundation work on that building has begun.
Cunningham said he's not chosen a name yet but hopes to select one within the next month.
The test kitchen and restaurant will feature a changing menu ranging from 12 to 15 entrees between $8 and $30. Menu changes at his establishments typically are done without much orderliness, prompting the idea for a test kitchen, Cunningham said.
He also operates Charbonos in Avon, Boulder Creek Dining Company in Brownsburg, and Stone Creek Dining Company locations in Greenwood, Noblesville, Plainfield and Zionsville.
The architect on the project is Phanomen Design.
 
Please enable JavaScript to view this content.