In a frenzied attempt to empty my notebook, here's a quick rundown of retail openings, in no particular order: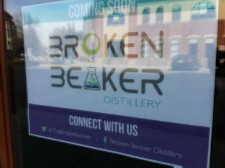 • Broken Beaker Distillery is coming to 643 Massachusetts Ave. where Bikes on Mass Ave was formerly located and next to Liberty Street tavern. The bike shop, which has changed its name to Mass Ave Bike and Brew, is moving up the street to 883 Mass Ave in the Trailside mixed-use development. It's temporarily operating in space a few doors to the west. The shop ultimately will offer "bikes-coffee-beer" according to its website.
 
• Rural King plans to open at 860 U.S. 31 South in Greenwood in the former Kmart space. Rural King, whose tagline is "America's Farm & Home Store," purchased the nearly 87,000-square-foot property from Kmart, which closed the store in December. Rural King is set to open in late April. The Mattoon, Ill.-based retailer has 70 stores in nine states.
• Mooyah Burgers Fries & Shakes will open its first restaurant in Indiana, in the Stony Creek Marketplace on Mercantile Boulevard in Noblesville, by September. Franchisee Chris Frank, who works in food service at Indiana University in Bloomington, has agreed to open a total of three Mooyah restaurants in the Indianapolis area, the company said. Overall, the Plano, Texas-based chain plans to open eight locations in the next five years.
• Tinker Street opened Jan. 22 at 402 E. 16th St. The restaurant is a chef-driven and plant-based concept launched by trailblazing restaurateur Peter George and business partner Thomas Main. Check out IBJ's story from June that reported on the pair's plans.
• Purseptions Boutique will host a grand opening Jan. 31 at its new location at 8910 Southeastern Ave. Owners Melinda and Bud Reynolds started the store in April 2004 as Glitter 'n Glitz. The reopening of Purseptions represents the store's return to the Wanamaker neighborhood  after a year-long hiatus.
• Center Cut opened Jan. 22 at Indiana Grand Racing & Casino in Shelbyville. Located near the main entrance of the casino, the restaurant offers an array of entrees, including cuts of beef, in addition to seafood, chicken and pasta.
• K1 Speed has opened at 9998 E. 121st St. in Fishers east of Interstate 69. California-based K1 Speed had wanted to open the electric indoor go-kart track in the Saxony Corporate Campus in Noblesville but was black-flagged by the city's plan commission.
• Aldi is continuing its expansion in the metro area by opening a Carmel store Feb. 5 at 14620 Greyhound Plaza north of 146th Street. As part of the grand opening festivities, one shopper will win free produce for a year, and the first 100 shoppers will receive a ticket worth up to $100 in Aldi gift certificates. An Aldi opened at Cherry Tree Plaza on the far east side and another on State Road 135 in Greenwood, both in October.
• Aspen Creek Grill is planning to build a stand-alone restaurant in Saxony, north of 146th, across from Hamilton Town Center, and next to Famous Dave's. Aspen Creek, owned by Texas Roadhouse, has two locations in Louisville and another in Irving, Texas. Texas Roadhouse recently opened Bubba's 33 in Fishers and Jagger's in Noblesville.
• Rosie's Place has opened its Zionsville location on Main Street in the old Eagle Creek Coffee/La Dolce Vita space.
• Danny Boy Beer Works opened Jan. 24 in the Village of West Clay. The craft brewery and tap room is operated by Kevin Paul and business partner Prescott Sanders, owners of Brockway Public House in Carmel.
• Lutz's Steakhouse in Noblesville, which closed Dec. 31, is set to reopen next month under new ownership. A voice message on the restaurant's answering machine says it should open in mid-February following a remodeling.
• Dollar General opened at 8030 S. Arlington Ave. Jan. 24.
And finally, in case you missed it, Giordano's opened its first Indianapolis location Jan. 27, in the Rivers Crossing shopping center. Check out what CEO Yorgo Koutsogiorgs told IBJ about opening a downtown location.
Please enable JavaScript to view this content.