The new owner of a downtown parking garage that dates to the Depression is renovating the facility in hopes of reopening it in June.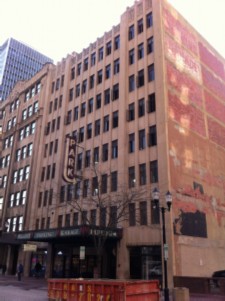 Indianapolis real estate firm Cranfill Development Corp. purchased the 315-space garage at 145 E. Market St. west of the City-County Building late last month from Indiana Parking Garage Associates II, which had operated it since 1999 and voluntarily closed it late last year.
Terms of the acquisition were not disclosed. But a spokesman for Cranfill said it's spending $2 million to refurbish the garage.
Locally based Carl E. Most & Son Inc., a general contractor specializing in concrete repair and restoration, is performing the restoration work on the building that was constructed in 1929.
Cranfill, a retail and residential developer in the Indianapolis area since 1990, was drawn to the garage to diversify its portfolio and gain a downtown presence, Mark Cranfill, president of the company, said in a prepared statement.
"The transaction allowed us to acquire a key piece of real estate in the long-awaited redevelopment of the Market Square Arena District," he said. "With the changing landscape of downtown, we are excited to bring new life to a property that has a historic aspect."
Construction is under way on the $20 million IndyGo transit Center on East Washington Street, and work is set to begin in April on the $30 million, 10-story Cummins office building. In addition, Flaherty & Collins is expected to break ground soon on its $100 million, 28-story apartment tower on part of the former Market Square tower.
To the west of the parking garage, on East Market Street, local developer Loftus Robinson has purchased a vacant 12-story office building and is embarking on a renovation to return the property to its former prominence.
Ryan Zickler of Zickler Associates LLC advised and represented Cranfill in the acquisition.
Please enable JavaScript to view this content.