Dinosaur Bar-B-Que's attempt to open a restaurant at one of downtown's most high-profile intersections is off to a messy start.
The Syracuse, New York-based chain is set to take part of the former Nordstrom space at the southwest corner of Meridian and Maryland streets. It presented design plans Wednesday to the Indianapolis Historic Preservation Commission.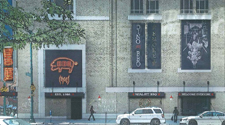 Simon Property Group Inc., manager of Circle Centre mall, has not yet publicly announced Dinosaur Bar-B-Que's arrival. After Wednesday's meeting, it likely won't for at least another month as the restaurant works through design revisions.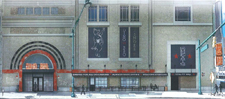 Large graphics and paintings of pigs on metal panels that would adorn the mall's exterior were particularly concerning to commission members such as Susan Williams.
"In an attempt to be as polite as I can," she said, "I have to say that in all my years of public service, I have not looked at anything that made my heart break more than when I looked at this." (Maryland Street rendering, top; Meridian Street rendering, bottom)
Even before the meeting, IHPC staff and restaurant architects had engaged in a lengthy back and forth over Dinosaur's plans for the corner.
Among the initial problems IHPC staff had with Dinosaur's original proposal:
• Signs and graphics painted directly on building masonry as well as on slate tile panels.
• Two neon signs near the entry do not complement one another and add visual clutter, in addition to a neon sign on Maryland Street that visually conflicts with a blade sign.
• An entry that is "antiqued" with old doors, old and mismatched window sash and barn-siding wainscoting.
"Meridian Street is Indianapolis' 'premier' street, not a back street in a tumble-down section of town," IHPC staff wrote in a report. "The character projected by this business is intrinsically out of character with its surroundings."
Finally, after the fifth attempt to alleviate concerns, architects submitted a proposal that IHPC staff felt comfortable enough to present to commission members, minus the red and black banding on the Meridian Street side of the building.
After it became clear on Wednesday that IHPC members would not vote in favor of the design, Bruce Tobin, senior executive vice president of leasing at Simon, expressed his frustrations with the process.
"We've been working on [leasing the Nordstrom space] for more than three years," he said. "To me looking at that vacant storefront is an eyesore. I would hate to have to work for three more years to find something to go in there."
Dinosaur Bar-B-Que is set to return to the commission March 4 to present another revision to its plans.
The small chain has six locations in New York and one each in Baltimore; Chicago; Stamford, Connecticut; and Newark, New Jersey, according to its website.
The Irvine, California-based Yard House restaurant and bar is set to open on Maryland Street, west of where Dinosaur wants to locate, before the Final Four men's basketball championship arrives in the city April 4.
Retail brokers say Cincinnati-based Nada also is set to take part of the Nordstrom space, creating a "restaurant row" along West Maryland Street.
 
Please enable JavaScript to view this content.