In today's retail roundup: Another craft brewery opens, and basketball fans can look forward to another place to enjoy a beer downtown during the Final Four.
• Bent Rail Brewery opened Feb. 9 in the former home of Monon Fitness at 5301 Winthrop Ave. south of Broad Ripple along the Monon Trail.
The brewery is operated by Derek Means and Craig Baker, who also own the Local Eatery & Pub in Westfield.
Bent Rail has the capacity to produce an estimated 1,500 barrels annually. Its menu includes small plates, salads and sandwiches ranging from the $5 pickled eggs to the $13 roast beef brisket and lamb terrine.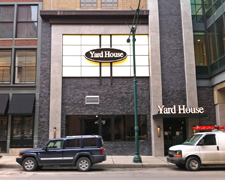 • Yard House is set to open on Maryland Street in part of the former Nordstrom space in Circle Centre mall March 25.  Its facade is essentially completed (see image at right).
The Irvine, California-based restaurant and bar is owned by Darden Restaurants Inc. and has locations in 20 states. It portrays itself as an "upscale casual eatery" and is widely known for its vast array of beers on tap—up to 250 imported, craft and specialty ales and lagers.
• Another Broken Egg Café has signed a letter of intent and plans to open early next year at The Switch mixed-use development in downtown Fishers.
The Switch, a Loftus Robinson project in partnership with TWG Development, includes a 400-space parking garage wrapped with retail space and more than 100 apartment units. It also includes a three-story, 33,150 square foot office building.
This will be the second metro area location for Mandeville, Louisiana-based breakfast chain. Its lone local outpost at 9435 N. Meridian St. opened in April 2013.
• Bubba's 33 is "coming soon" to 7799 S. U.S. 31, according to the restaurant's owner, Louisville-based casual dining chain Texas Roadhouse Inc.
The company opened its first Bubba's 33 in the Indianapolis area in November at 9770 North by Northeast Blvd. in Fishers where a former Bennigan's restaurant once stood.
In the same area, and staying with the Texas Roadhouse theme, the company will open its second Jaggers here, at 7833 S. U.S. 31.
The first location opened at the Prairie Lakes retail center at 146th Street and State Road 37 in Noblesville.
• Stock Yards Bank & Trust Co. has opened a branch near St. Francis Hospital on the city's south side at 7915 S. Emerson Ave. This is the fourth metro area location for the Louisville-based bank.
Now for closings:
• INgredients: Field to Fork Market & Café on East 71st Street west of Binford Boulevard has closed.  
• Spa at the Villa at 1456 N. Delaware St. has closed. The Villa now only offers overnight rooms in the bed and breakfast, according to a note from owner Jeneane Life.
• Cajun & Grill in the Circle Centre food court has closed.
 
Please enable JavaScript to view this content.