An upstart specialty grocery chain that entered the Indianapolis market last year by opening three stores is coming to Broad Ripple.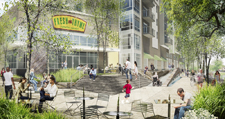 Fresh Thyme Farmers Market has signed a long-term lease to anchor Browning Investments' $37 million apartment and retail project planned along the Central Canal, company partner Jamie Browning told IBJ. (Click on the image at right for a full-size image of the rendering.)
Construction on the project, called The Coil, is set to begin in late March. The grocery should open in spring 2016, with the 150 apartment units coming online in the following months.
Browning Investments was approached by several grocers but ultimately settled on Fresh Thyme, Browning said.
"It turned out that Fresh Thyme seemed to be the best fit for the neighborhood," he said. "We're very excited about having them as our partner."
Competitor Whole Foods originally had been pegged to occupy the 35,000-square-foot space—the entire retail portion of The Coil. But, "there were some circumstances that swayed them away from wanting to come here," Browning said.
Fresh Thyme's closest competitor in its class as a specialty grocer will be The Fresh Market about 10 blocks to the south at 5415 N. College Ave. Kroger has a more traditional supermarket a few blocks from The Coil at 6220 Guilford Ave.
Fresh Thyme is hitting the local market hard, along with a handful of other specialty grocers. It has opened stores at 4225 E. 82nd St. in the Lake Clearwater area, at 8750 U.S. 31 north of Greenwood Park Mall, and at 2342 W. 86th St.
The Phoenix-based company is in the process of moving its headquarters to suburban Chicago. Coincidentally, another Indianapolis developer, Lauth Group, is building Fresh Thyme's new office. The Carmel-based company announced Wednesday that it will begin construction soon on its 29,000-square-foot building in Downers Grove, Illinois.
Since Browning unveiled details of The Coil nearly two years ago, the number of units has increased from 119 to 150. Browning added more units to the building by making design changes and by adding apartments on the east side of the building facing Carrollton Avenue without exceeding height restrictions, Browning said.
The studio, one- and two-bedroom units will range from 600 square feet to 1,800 square feet and will be priced at market rate.
The architect on  the project is Browning Day Mullins Dierdorf Architects.
Please enable JavaScript to view this content.