The historic but ailing downtown Phillips Temple might not be coming down after all.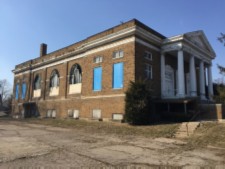 Located at 1226 Dr. Martin Luther King Jr. St., the vacant structure has sat in limbo the past few years while avoiding on-and-off-again efforts from Indianapolis Public Schools to demolish it to make way for parking for Crispus Attucks Medical Magnet High School to the south.
As recently as last month, the school district again had sought city approval to raze the 1924 building. But the request was continued, and now it looks as though IPS is backing off and giving Indiana Landmarks more leeway to help find a buyer.
"We hope that we've averted demolition of the structure," said Mark Dollase, Indiana Landmarks vice president of preservation services. "We just need to find that final solution and partner with IPS."
At the request of Indiana Landmarks, IPS has repeatedly delayed action on the building to seek a potential partner to maintain and renovate it for a new use, an e-mailed statement from IPS said.
"No feasible alternative use, or appropriate community partner, has been found," IPS said. "We have asked for a continuance as we seek yet again a viable partner to renovate the facility for productive use."
Rehabbing the building for office use, perhaps with one tenant each on the first and second levels, or for housing makes the most sense, Dollase said.
Indiana Landmarks' biggest concern is to ensure the temple's exterior remains intact in its original form.
The building needs a lot of work, though. The roof is unstable, the walls are bowing and windows have been left open, exposing the interior to the elements. It could take $1 million to $2 million to get it functional.
IPS bought the nearly century-old building with four towering white columns at its entrance, and adjacent land, in early 2011 for $319,000.
Two years later, the school district gave the building a reprieve, at the insistence of Indiana Landmarks, when a couple of potential buyers surfaced. The deals fell through and, late last year, IPS again approached the city about demolishing the building.
Indiana Landmarks in 2013 placed the Phillips Temple on its "10 Most Endangered" list.
 
Please enable JavaScript to view this content.