The owners of King David Dogs have stepped into the realm of reality television, hoping to score a big investment for their wiener business.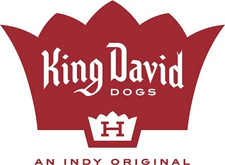 Brent and Hannah Joseph will appear on the April 13 episode of "Food Fortunes," a new "Shark Tank"-like show from the Food Network that gives "food-savvy entrepreneurs" the opportunity to pitch their products to a panel of high-profile investors. They did a live audition in Chicago before flying to Los Angeles in January to tape the episode.
The Josephs, who operate a King David Dogs restaurant downtown and have licensed a location at Indianapolis International Airport, aren't looking to expand their number of locations. Instead, they're seeking financial help to distribute their dogs to big-box retailers and grocery stores, Brent Joseph told Property Lines.
"Our goal is to expand the brand reach on retail shelves," he said.
King David isn't the only local restaurant to attempt to crack the retail market. Steak n Shake last fall took a giant leap in the company's history by bringing its popular steakburger and a few melts and appetizers to the frozen-food aisle of select supermarkets.
By appearing on "Food Fortunes," the Josephs attempted to sway a panel of potential investors, including Willie Degel, host of Food Network's "Restaurant Stakeout"; Robert Earl, founder and CEO of Planet Hollywood International; Scott Gerber, CEO of Gerber Group; and celebrity chef Daniel Green.
If the entrepreneurs first impress the audience enough with their products, they're able to move on and negotiate with the investors to score funding to help launch or expand a business.
Tune in to the Food Network at 10 p.m. April 13 to learn the Josephs' fate.
King David's quarter-pound wieners are made using a recipe that dates back to the 1940s, when Brent Joseph's grandfather and great uncle started Hene Meat Co. after immigrating to Indianapolis from their native Germany.
The family brand remained in business until 1993; the Josephs resurrected it in 2006.
Their appearance on "Food Fortunes" actually stems from previous attempts to get on ABC's "Shark Tank." Twice in the past few years they made it through early rounds of auditions but never far enough to appear on the show. But a former "Shark Tank" producer now working on "Food Fortunes" remembered the couple and gave them a ring.
Please enable JavaScript to view this content.