The owner of the 500 N. Meridian office complex is taking offers on one of the buildings in hopes of tapping into the hot downtown housing market.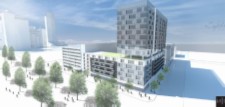 Ambrose Property Group in June closed on the $12 million purchase of the mostly vacant 500 N. Meridian, which included 436,000 square feet of office space and an adjacent parking garage.
The developer since has attracted such tenants as law firm Hall Render Killian Heath & Lyman PC, accounting firm Blue & Co. LLC and the Indiana Hospital Association. That will help take the main, seven-story office building to full occupancy, once the firms take residency later this year.
But the three-story vacant structure on the complex's north end (the southwest corner of Meridian and North streets) poses bigger challenges that instead might make it ripe for an apartment redevelopment, given the continuing high demand for downtown housing.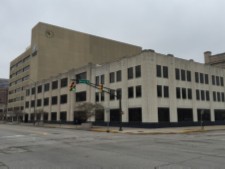 "In its current state, it's just obsolete for today's purposes," Ambrose President Aasif Bade said of the 130,000-square-foot section. "We just don't think [office is] the highest and best use for that property."
Axis Architecture + Interiors is serving as the architect for the conceptual drawings provided in the request for proposals. (The image at top is just a mockup for the RFP; the eventual project likely would look different.)
Before Ambrose's purchase, 500 N. Meridian had been mostly vacant since Seattle-based insurance giant Safeco Corp. left in 2009 as part of its acquisition by Boston-based Liberty Mutual.
Ambrose has hired the multi-family housing team of Amy Burmeister and Adam Ehret of Summit Realty Group to solicit proposals for the building. There is no deadline to submit offers.
"The average rent now for the Class A, more luxury new [apartment] construction is over $1.80 a square foot, which is pretty remarkable," Burmeister said. "So I think this site best lends itself to that more luxury renter, that renter by choice demographic, millennials and otherwise."
Ambrose will continue to own and manage the seven-story office building.
 
Please enable JavaScript to view this content.